Inna Cherneykina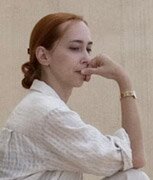 Inna was born in Sergiev Posad, a town near Moscow, famous for its ancient St. Sergius Monastery (Troitse-Sergieva Lavra) with rich architecture and a great collection of Andrey Rublev icons.

At the age of 10 Inna successfully passed entrance exams and was accepted to the Sergiev Posad Art School. After completing the art school she continued studying watercolor painting with a noted artist from Sergiev Posad, Ivan Kharchenko, for another year.

In 1988 Inna was accepted in the Moscow Art University for the five years Masters Program of Art and Graphics. After graduation from the University, Inna's art career took a detour into the world of computer art and computer graphics. Computers gained popularity in Russia at that time and she decided to try herself as a computer artist. One of the projects Inna worked on under the direction of Roger Dean and Michael Kaluta was creating fantasy worlds for a computer game. It was a new exciting venture, which brought Inna to California in 1997. She worked in California as a computer game artist, creating beautiful CG environments, while still painting watercolors, doing pastels and silk paintings.

                In 2007 Inna took an Ala Prima class, where she met a great teacher and artist, Jim Smyth. His talented tutoring has inspired Inna's rediscovery of oil as an art discipline. Inna also went to Idaho to study under famous American-Armenian artist Ovanes Berberian. Berberian's passion for colors made a huge influence on Inna's vision of art. His art rooted into deep Armenian and Russian traditions were in creative synergy in Inna's art quest goals. Berberian's workshop turned out to be a great source of inspiration, fueling Inna's love for still life painting.