James Crandall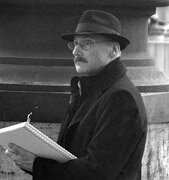 Having studied at the Art Center College of Design in Pasadena, California, James Crandall has had a long career as a concept illustrator in the advertising and motion picture industry. In recent years, he has shifted his attention to traditional easel painting.
At home in Northern California and on travels in the Southwest, he finds subject matter in everyday life. Crandall is always looking for an intriguing play of light, or the unstaged gestures of people at work or at play.
In 2001, a reunion with relatives in Italy (his mother's side) sparked the creation of a series of paintings depicting life in his grandfather's hometown of Lucca in Northern Tuscany. With several subsequent visits, and after many months of living and working in Italy, he acquired both a working knowledge of the Italian language, but an abiding sympathy for this special part of the world.
James Crandall has been juried into major exhibitions, including National and Regional Oil Painters of America, California Art Club Gold Medal Show, Salon International at Greenhouse Gallery, and many others. Top awards and honors have followed Crandall in recent years.