Po Pin Lin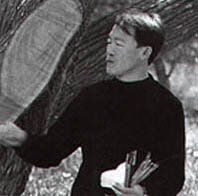 In the artist's own words . . . "I spent my childhood in a natural and primitive, yet beautiful part of Taiwan, Nan Toe. It is located in the central part of Formosa Island and is always surrounded by blue sky, cotton white clouds, green mountains, crystal spring waters and colorful flowers. Growing up in an environment as such, I have always looked at nature as my second mother. She has offered the most generous and abundant part of life and has taught me the love of life. Being in her embrace, I find my most inner peace. In return to express my appreciation, I have tried to records the beauty of nature with paints and brush.
"Although now I live in a man-made Western industrial city, I believe this second mother of mine always appears in my dreams in various forms. I love to search for her sight and her scent. Continuously, I am recording nature's beauty on my canvas. Here I am with my painting of landscape, I present to you my most intimate emotional bond with nature."
Po Pin Lin's participation in many group shows has resulted in several major awards, the most recent being Award of Excellence at the Oil Painters of America (OPA) National Juried Exhibition.