Ralph Love (1907-1992)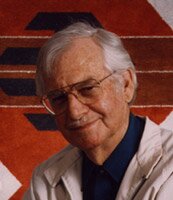 Pretend you're a visitor to Temecula, California in the fall of 1959. Try to imagine driving along old Highway 395 and coming into town from the north, stopping at Al Knott's garage for gas and the Swing Inn for a sandwich. Try to picture yourself getting back into your car, and spotting a huge sign reading "Art Shack" on top of an old building across the street. Imagine pulling up in front of this shack and getting out looking more closely at the impressive oil paintings displayed in the windows. Hopefully, it's the right time of the day and the right day of the week, when you just might hear the sound of classical music wafting gently through the thin wallboards of Ralph Love's Art Shack. Peek inside and you might even catch Love playing his violin, while his students continue painting. If you were to look around at these simple surroundings, the worn floorboards, the sagging roof, you might judge the musician-teacher-owner to be just another struggling artist. If you truly focused, however, on his paintings and on him, you would get a glimpse into the soul of a deeply spiritual, exceptionally gifted man.
Born in 1907 in Los Angeles, Ralph Love received no formal art training, but was literally self-taught. It was when he was about eleven or twelve, his teacher took the class to the Los Angeles Museum of Art, and he discovered what he wanted to do. He remembered standing front of one of the old Flemish masters, and it just came to him . . . "I can do that!" And he did.
For much of his life, he was a minister and evangelist, incorporating his artistic talent into his ministry. A self-proclaimed "realist with the heart of a poet," Love attempted in his art, to create what he termed, "a visual symphony." Music played an important role in freeing his creative energy and he would often listen to classical music while he painted. By the time he arrived in Temecula, however, Love had already received many prestigious awards for his paintings. A lifetime member of the Society of Western Artists, and of the Laguna Beach Art Association, he judged and participated in many shows. By 1956, he had won eight first prize awards in a broad list of competitions.
For thirteen years, beginning 1958, Love held art classes and displayed his paintings in the old abandoned building his wife, Bertha, had found on Front Street in Temecula. Together, they had swept out all sorts of wild life, made some desperately needed repairs, and eventually invited anyone interested in fine art to enter. Enter they did. "I had people drive by my gallery and skid their wheels when they saw the paintings," Ralph is quoted as saying.
The art classes were so successful, as many a forty names would appear on a waiting list and students of all ages would come from distances as far as one hundred miles away. Trying to create a comfortable environment, the Loves provided hot coffee and donuts for the aspiring painters, but it was, most often, the depth of Ralph's artistic vision that drew most pupils to the old shack.
In a magazine article, Love was quoted explaining his "visual psychology." "There is the psychology of color that can make us happy or sad, even the psychology of lines where a straight line means rest, a graceful line suggests dance, and a jagged line can tear to pieces," Love said. "In a painting, the composition may be beautiful, the values correct, and the craftsmanship excellent, but if the psychology is off, it lacks emotion or mood."
Of the more than 1,900 works of art he produced, Love is best known for his majestic depictions of the Grand Canyon, and his California scenes showed Ralph's range of talent, which could capture on canvas the tranquility of a desert scene, the mystic peace of a mountain range, and the restless power of an ocean.
When Ralph became too ill to continue giving lessons, he focused his time and attention on painting what he felt was the elusive "great painting of his life." He felt strongly that a true artist must paint from the heart, not the head. Love's strong faith in God, his appreciation for music and nature all served as inspiration to try to create more than just a flat image on canvas. Into each painting, Ralph would attempt to put a piece of his soul until, in his words, "the art would sing."
His paintings must be making wonderful music all around the world, as Ralph Love's work is now highly valued in the international art world; it can be viewed in several museums, including the Northern Arizona Museum in Flagstaff, Arizona, the Phillips 66 Museum in Texas, and the Leanin' Tree Museum in Boulder, Colorado. A partially finished painting of Old Town Temecula was donated by Bertha Love in 1993. The Riverside Museum commissioned Ralph to paint a portion of a large mural. Today, his work can be found in many galleries and private collections, including those of celebrities.
Ralph Love passed away in 1992, and on the 18th day of April, 1993, his birthday, the City of Temecula officially declared that day to be "Ralph Love Day."
Bertha, Ralph Love's wife of 62 years, passed away in 1996. She handled the business part of the art for many years. Together, they raised four children. Marian Brown is retired living near San Diego; Evelyn Norris lives in Carlsbad, California; Corwyn Love is retired from McDonald-Douglas Corporation, and Lee Youngman owns the Lee Youngman Galleries in Calistoga, California. Eleven grandchildren and twenty-one great-grandchildren survive Ralph Love.
Ah, if we could only hear once again the sounds of classical music drifting from an old art shack, where paintings sing, and the painter teaches great lessons beyond the canvas.
Biography By Pam Grender, Edited by Lee Love Youngman.