Wayne McKenzie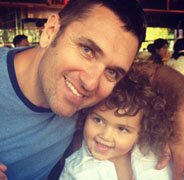 Wayne McKenzie's art emanates a laidback confidence that is a reflection of his Australian upbringing. With loose brushwork and bold use of color, he brings a unique perspective to the contemporary North American art world. Wayne's strong sense of design is derived from the Aboriginal art of his native Australia. His paintings are a visual journey that allows the essence of his subject matter to come to life.
McKenzie has appeared in various publications throughout the United States. He was most recently honored as a feature artist in the hardcover book "Best of Artists-Oil-Global edition" by Kennedy Publishing. Renowned art critic Susan Viebrock wrote, "Anyone who doesn't love a McKenzie must have a low opinion of joy . . . big personality—big work.." and went on to describe his work as having "a delightful sense of movement, vibration and exuberance.
Wayne McKenzie's paintings appear in private collections through North America, Europe and Australia. He's been awarded many honors, including Semi-Finalist for Plein Air Salon presented by Plein Air Magazine, First Place, 2013 California Art Club "Waterscapes" exhibition, People's Choice at the 2013 Telluride Plein Air Festival, Telluride, Colorado, and Artists Choice at the 2013 Napa Valley Art Festival, Yountville, California.